Dear visitor note Indian Government will start issuing fresh tourist visa from 15 October 2021 onwards. So now you can plan your trip accordingly.
Rajasthan North India Tours Traveler Reviews
Travel Reviews
Hi All,

I was in touch via email from the USA with Travel Fair India. However, I contacted Travel Fair India when I landed in India, at the very last minute on January 1st, for car and guide services and they did an outstanding job . They not only provided me the services the very next day for a car, but also for guides in Delhi, Agra and Jaipur. Also the way, I got calls each day to check about the status and if there was anything missing.

Great service and follow-up.

Sincerely,
Andrew Fernandes (Austin, Texas, USA)
Dear Rohit and the Team at Travelfairindia,

Thank you all very much for the excellent service during our trip to India last month. We are back home now. We really had a great time.

Wishing you all the best

Sincerely,
Mizan and Badrun. ( USA)
Hi All,

I just had a great tour with them - Delhi - Agra - Jaipur (20 Oct 2012 - 30 Oct 2012). Very good service, good hotels, good driver and guide as well, and prices are very affordable.They also personally call each day to enquire about you and the services provided.

Had a really great time, and will surely go for Travel Fair India again next time.

Sincerely,
Asvin (Mauritius)
Hi All,

Travel Fair India absolutely made my first trip to India not only a great success but one I will remember for the rest of my life. They were totally flexible and knowledgable and unbelievably friendly. Our driver and guides that we met along the way felt like old friends that we had come to India to visit! The hotels they booked were exactly what we were looking for, especially in the beautiful boutique hotel in Jaipur, and for the most part completely tailored the trip to make it exactly what we wanted. We never felt trapped into an itinerary and only enjoyed the most wonderful and authentic experiences and people along the way.

Travel Fair India are absolute experts at what they do and I have already recommended to many friends to use their services the next time their in India, I know I will for sure!

Sincerely,
Tracy - Fashion & Lifestyle Editor (United Kingdom)
Hi All,

Touring with Travel Fair India was an awesome journey! It felt like we were being taken around the country by old friends we hadn't seen in a long time; and as such, we've made great friends along the way :) Everyone was very genuine and welcoming. We had a personal guide who stayed with us for all three cities of the Golden Triangle tour. He made us feel like we were never lost or overwhelmed; which I imagine could be an easy thing to happen, given the recollections of friends who took other touring companies and had bad experiences.

Our group of 8 tourists will definitely be recommending TFI as their tour providers in India and hope that one day they will expand to all future tourist destinations we go to (Travel Fair Japan next please!)

Sincerely,
Eddy Leong (Adelaide, Australia)
Hello! Or should I say, Namaste!

Travel Fair India provided us with a personalised tour of the golden triangle (Jaipur-Agra-Delhi) of which we enjoyed thoroughly! Parvin, our tour liaison was very accommodating to our many needs and wants and The rest of the crew were very organised in making sure we arrived at our destinations safely and in a timely fashion (india's traffic can be unpredictable). Along the way, we were put up on great selections of hotels! The local guides at each location were very professional and entertaining as well!

All in all, I would definitely recommend that you pick Travel Fair India for your ultimate Indian experience :)

Sincerely,
Ju-Lear & Romesh (Adelaide, Australia)


Sincerely,
Christine Jennifer Quan,Martin Kent Chinn (United States)


Sincerely,
NIGEL (United Kingdom)


Sincerely,
Amanda (United Kingdom)
Hi Rohit,

Many thanks to you and your team at Travel fair India, I had booked a 10 day tour of India one the best experiences of my life from the minute we enquired in uk and making the booking we had no problems .
A professional itenary was emailed to me detailing all my hotel stays at Agra,Jaipur, Amritsar,Gurgaon. Every destination a Travel fair guide would be waiting for us with a name card at airport and train stations . Being new to the country it just made it so much easier and the guides are not pressuring you to keep going to souvenir shops defiantly concentrate on telling you the history of the places we went to visit.
So ten out of ten for well organized set up highly recommend it
Sincerely,
Sudhir (United Kingdom)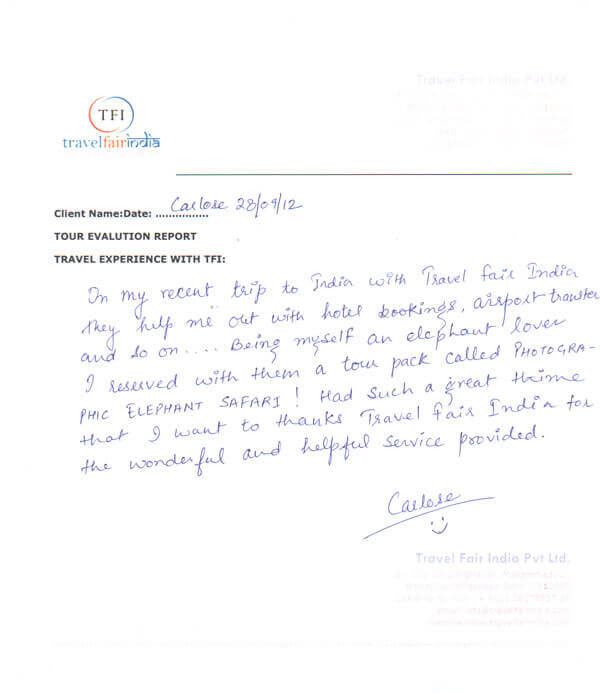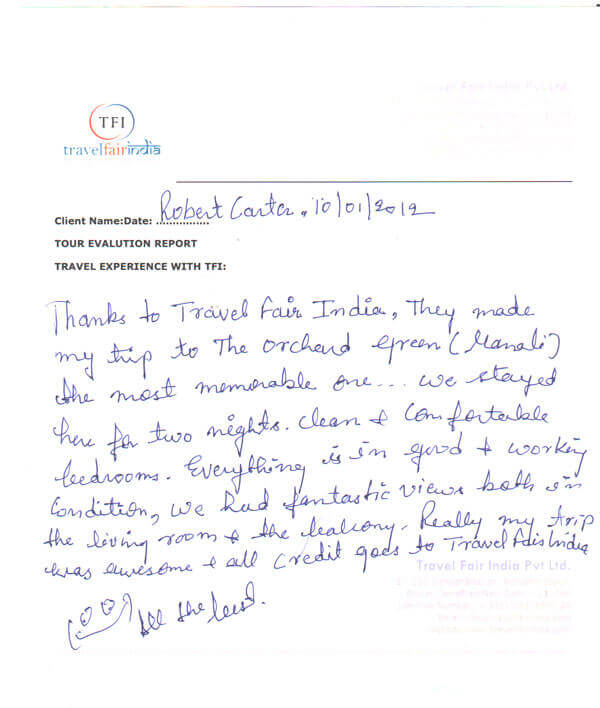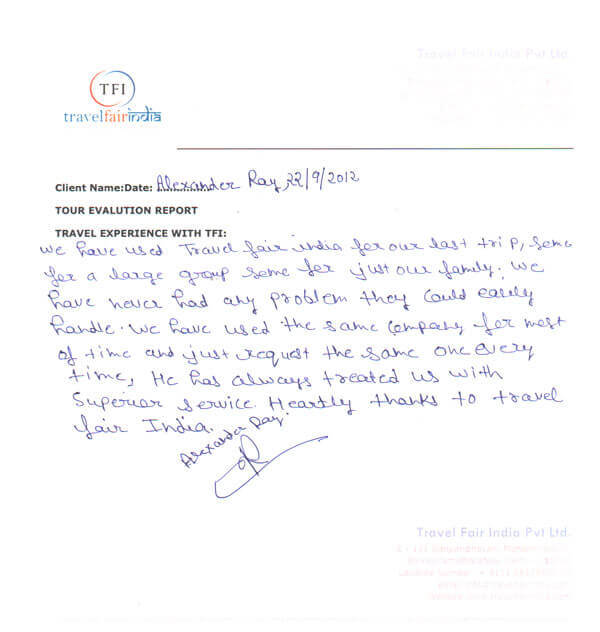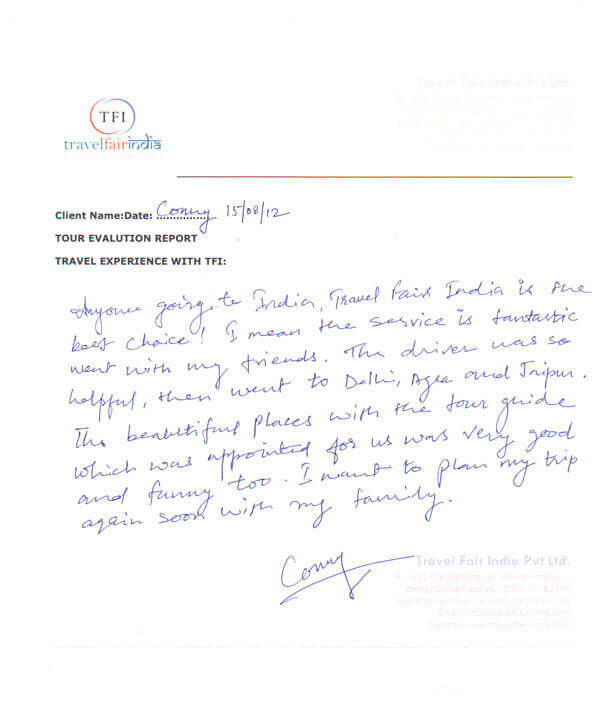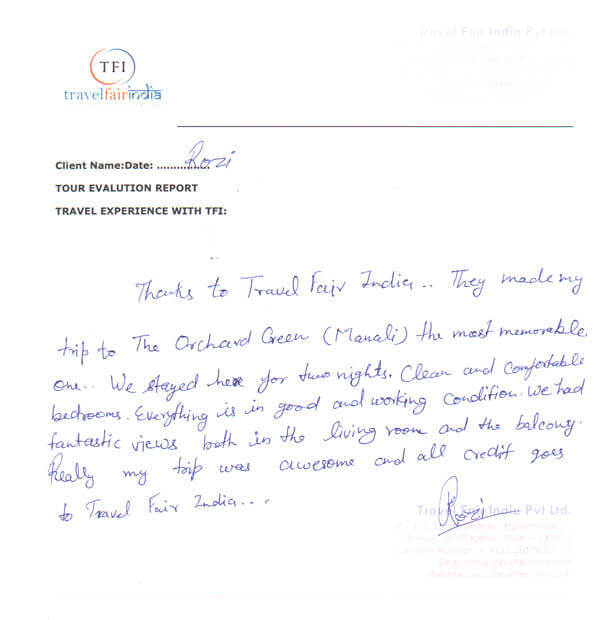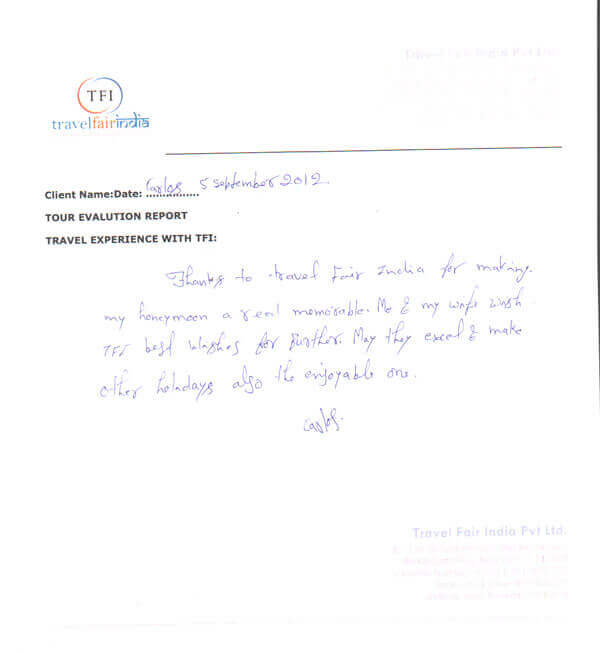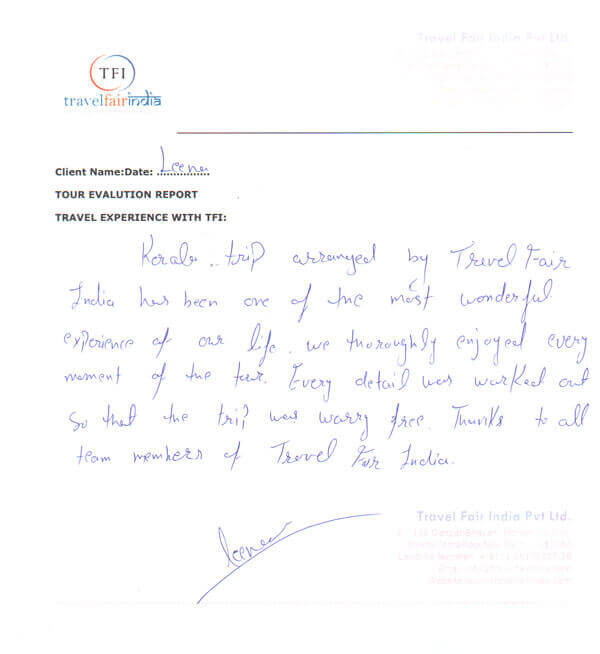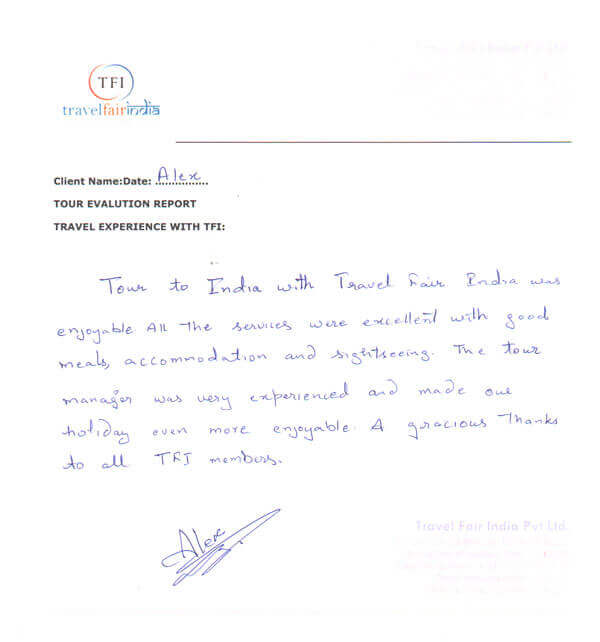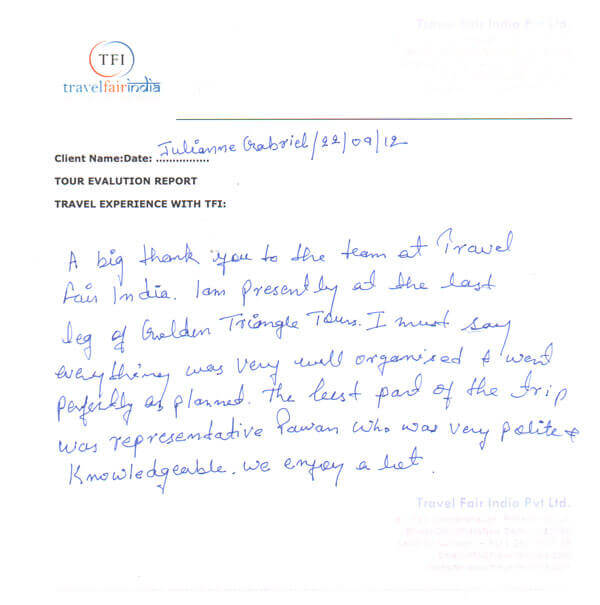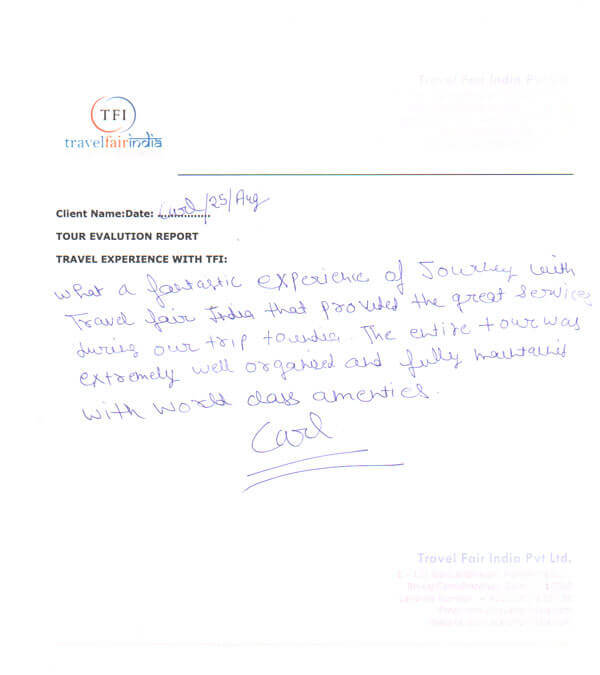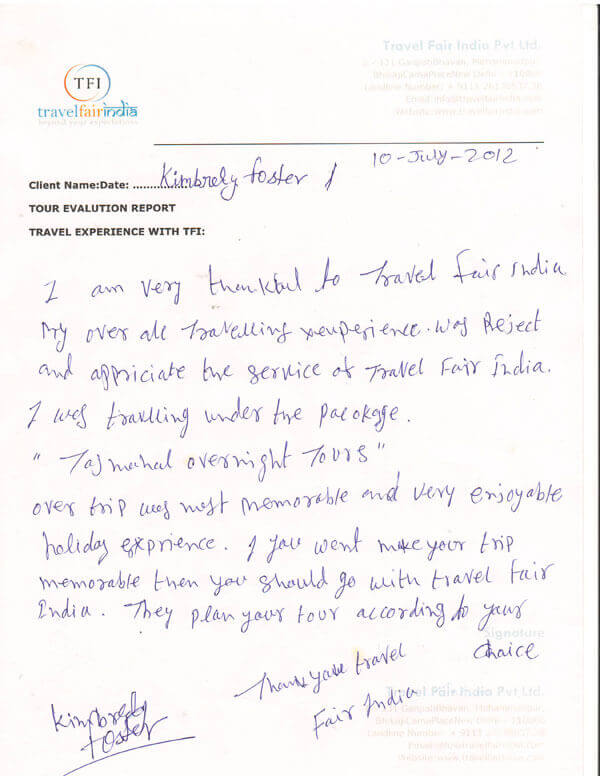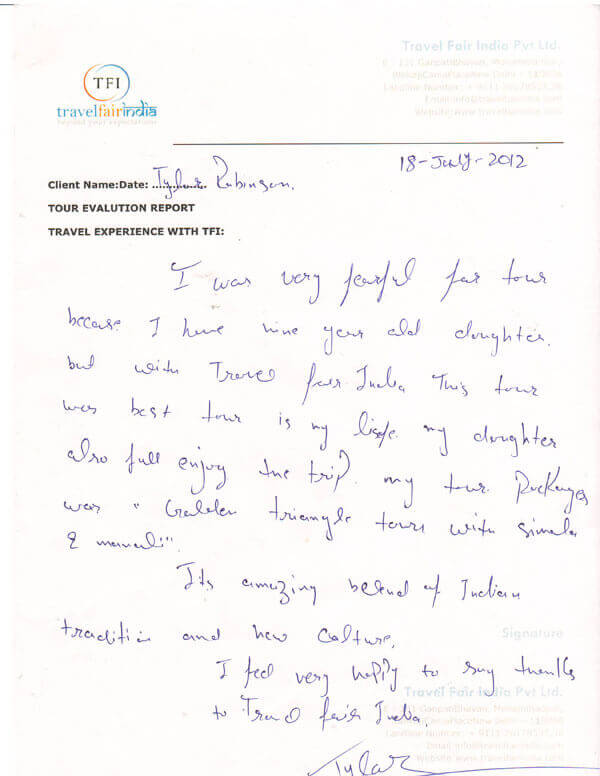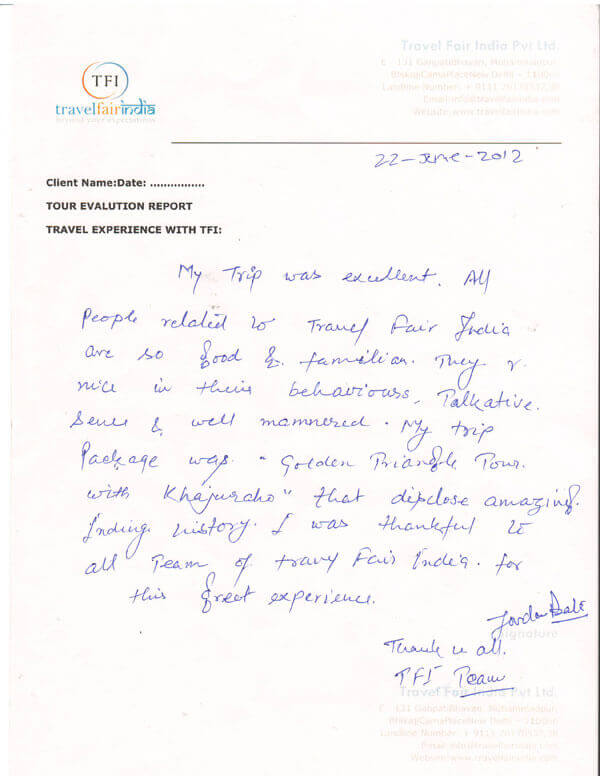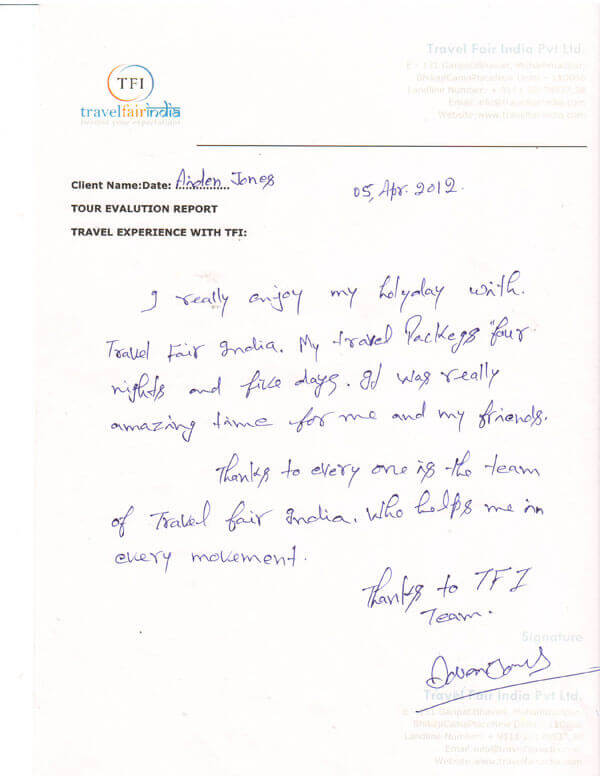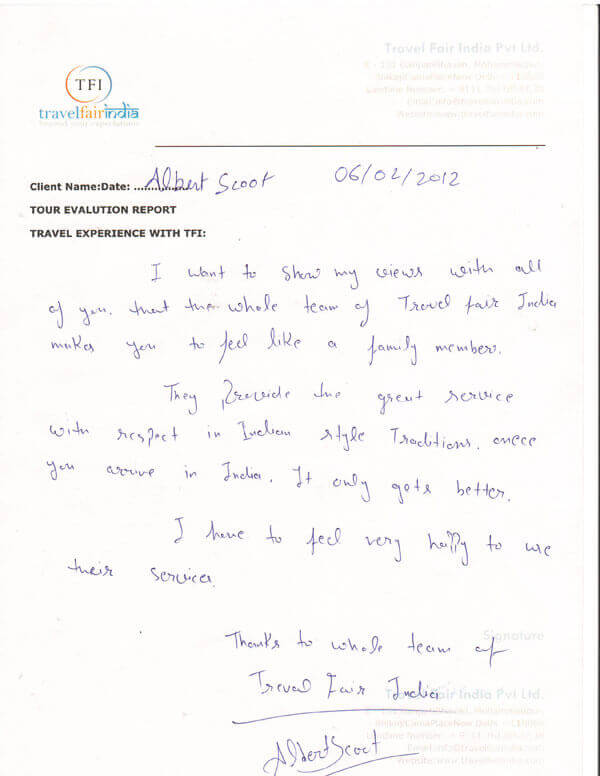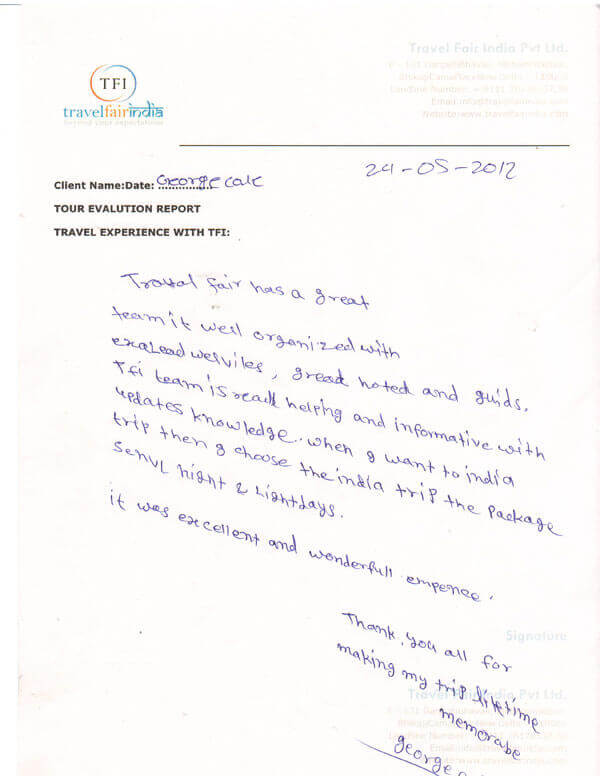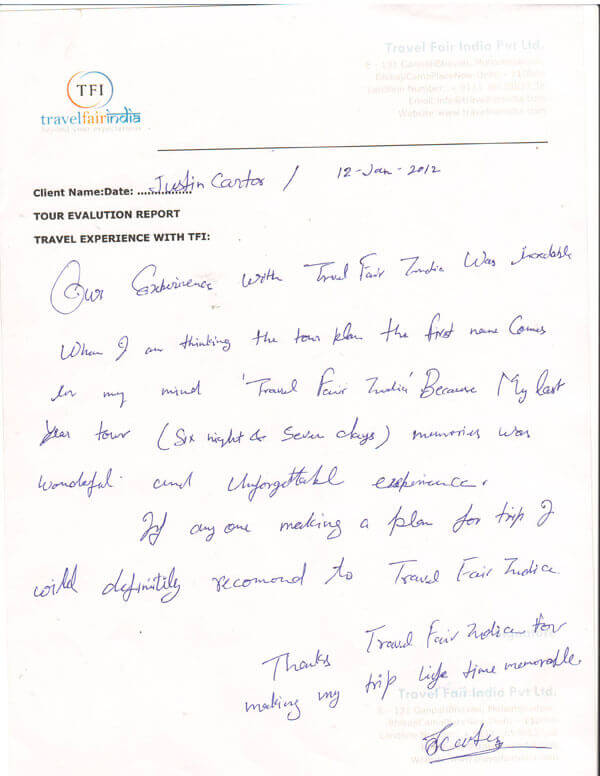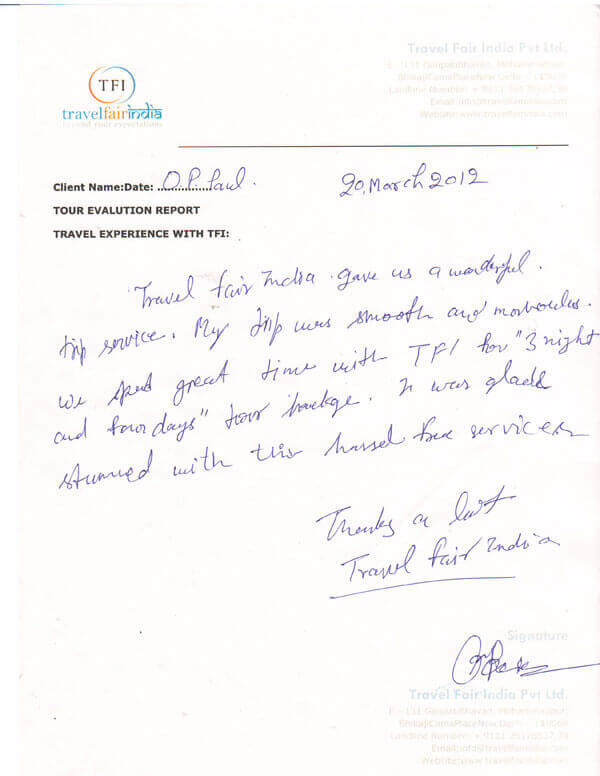 Hi Mr. Kumar,
my wife and I had a great experience through out the entire trip. All hotels were trully nice. All three drivers and five guides very professional and carying. The guides are the experts in their area. We got any kind of questions answered about the culture, history, politics, geology, etc.
Though my wife and I think that Manoj, guide in Jaipur, was the best. Cars were clean and comfortable for the long trips. The itinerary was very carefully selected. We got to see rich history of India as well as pristine nature of Himalayans.
Travel Fair India did outstanding job satisfying our unique hunger for natural beauty and food. The agency quickly adjusted their plans to meet our changing moods as we learned more about Ledah beauty. I admit, we got tired at the end, but my wife and I got to see everything we planned and even more. This was a great adventure for us.
Sincerely,
Andrew (United States)
Hi,
Thanks for your good service, I will share my good experience to my friend and my staff also l willing to use your service in the future, don't forget to inform me about the vehicle rental with good driver for 3 months.
Supot (Thailand)
Thanks for the trip
Thanks a lot vineet for giving superb tour experience I had very good time having my 5 nights golden triangle tour, now I am back to my country will recommend you strongly.
Nisha Hydrose (United Arab Emirates)
Hi, Pawan
Pawan thanks for arranging such a memorable tour for my family.TFI providing me an amazing and hassle free trip. The guide had suggested good restaurant with excellent services. Thanks to team of TFI…
William (United Kingdom)
Thanks,
I was very fearful for tour, because I have nine year old daughter but with Travel Fair India (TFI). This tour was best tour in my life. My nine year old daughter also full enjoys the trip.
Rody (Malaysia)
Hi,
Firstly I will say that all the arrangements were outstanding and services were really great. If I Will come again for trip then defiantly contact to the team of Travel Fair India. It was my Unforgettable experience.
Christian (United States)
Hi Vineet,
Thanks to TFI …this team is professionally organized, meeting me at my hotel and providing excellent services throughout my tour.

Piyush ( United Arab Emirates)
Hi, TFI,
I would like to extend my thanks to Travel Fair India for all the arrangements and care that was taken. Our trip was most memorable. I will definitely recommend Travel Fair India to those interested for great tour.
Preeti (Australia)